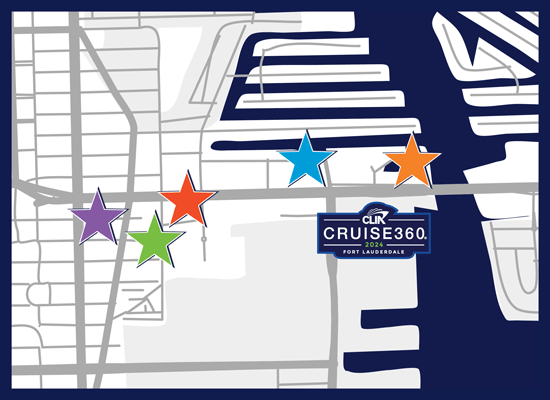 BOOK YOUR OFFICIAL CRUISE360 HOTEL
Hilton Fort Lauderdale Marina


1881 SE 17th Street Fort Lauderdale, FL 33316
Rates From:

$246/ Night

Double Queen or King Marina view room
Renaissance Fort Lauderdale Marina Hotel


1617 Southeast 17th Street Fort Lauderdale, Florida 33316
Rates From:

$235/ Night

One King guest room

$235/ Night

Two Queen guest room

Shuttle Service Available
Embassy Suites by Hilton

Fort Lauderdale 17th Street


1100 SE 17th Street, Fort Lauderdale, FL 33316
Rates From:

$241/ Night

2 Room Suite-1 King Bed-nonsmoking

Shuttle Service Available
Hyatt Place Fort Lauderdale Cruise Port


1851 SE 10th Ave, Fort Lauderdale, Florida, 33316
Rates From:

$199/ Night

King Bed (with sofa bed)

$199/ Night

Two Double Beds (with sofa bed)

Shuttle Service Available
Four Points by Sheraton Fort Lauderdale Airport/Cruise Port




1800 South Federal Highway Fort Lauderdale, Florida 33316
Rates From:

$199/ Night

Guest room, 1 King, Sofa bed

$199/ Night

Guest room, 2 Queen

Shuttle Service Available
Deposit and Cancellation Policy:
All reservations require a two-night deposit. Please take note of each hotel's cancellation policy. Reservations not cancelled by the hotel's listed cancellation date will be charged for their entire stay (all room nights reserved).
Beware of Hotel Piracy:
Hotel Piracy refers to the practice of unauthorized solicitations from hotels or third-party housing agencies that are NOT affiliated with Cruise360. Hotel pirates are a constant presence in the convention and meetings space, and the information these companies/individuals provide is often untrue, may include hefty service fees, refer to non-existent room blocks, false rates and include non-refundable deposits. If you are contacted by any of these companies, DO NOT RESPOND to them and NEVER provide them with your credit card information, as your information may be compromised.
Cruise360 has NOT contracted with any organization to facilitate booking of hotels for Cruise360. The only source of information on official conference hotel room blocks is the hotels page on cruise360.org, which includes direct links to book online or by phone with each individual hotel.
Known hotel pirates that have reached out to Cruise360 attendees include: Global Housing Corp., Pro Housing Corp.
Please do not respond to these organizations in order to protect your personal information and ensure your hotel reservation for Cruise360.