Sightseeing Excursions and FAMs
---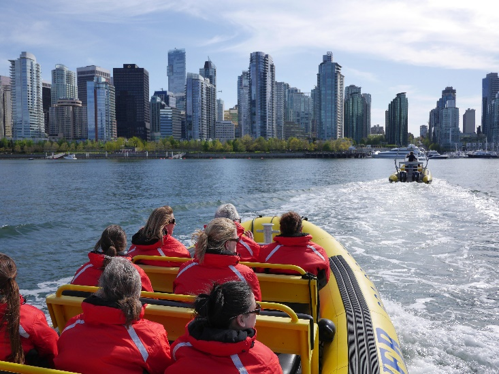 Find Yourself on a Vancouver Adventure with a Cruise360 Sightseeing Excursion

Sightseeing Excursions Arranged by Tourism Vancouver (May 16-17)

Use your time in Vancouver to learn more about one of the city's many key attractions. Tourism Vancouver along with our partners invite you to register for a free, escorted excursion, taking place Saturday, May 16 or Sunday, May 17, exclusively for Cruise360 attendees. Add to your product knowledge and have fun too!
Make sure to check out the sightseeing opportunities below. Advanced scheduling is required, please limit to one sightseeing excursion per registered attendee.
Notes for all Sightseeing Excursions:
Departure Information: All participants are to meet in the Exhibition Level of the Vancouver Convention Centre WEST.

Lunch will not be provided; however, for activities lasting 4 hours or longer, participants will have the opportunity to buy food during the excursion.
Activities and times are subject to change and are subject to minimum / maximum numbers of registrants. Register early to avoid disappointment!
Walking and standing may be required for some activities – see full tour descriptions for details.
Please ensure travel insurance you purchase for your Cruise360 trip covers you for all activities. It is your responsibility to purchase travel insurance and you will be responsible for your own medical requirements, if applicable.
Where required, participants will be asked to complete waivers before participating in activities.
Questions and waitlisting inquiries? Please contact ebaker@tourismvancouver.com.
| | |
| --- | --- |
| Activity | Time |
| Saturday, May 16, 2020 | |
| Vancouver Aquarium | 10:30am to 1:30pm |
| Stanley Park Horse-Drawn Tour | 9:30am to 11:30am |
| Capilano Suspension Bridge Park | 9:00am to 1:00pm |
| FlyOver Canada & Canada Place | 10:30am to 12:00pm |
| Grouse Mountain, The Peak of Vancouver | 9:00am to 1:00pm |
| Harbour Cruises | 11:15am to 1:30pm |
| Sea Vancouver | 9:45am to 12:45pm |
| Sewell's Marina Sea Safari | 9:15am to 12:45pm |
| Landsea Tours & Adventures | 10:00am to 2:00pm |
| Gray Line Westcoast Sightseeing | 10:00am to 2:00pm |
| | |
| --- | --- |
| Activity | Time |
| Sunday, May 17, 2020 | |
| Vancouver Aquarium | 10:30am to 1:30pm |
| Stanley Park Horse-Drawn Tour | 9:30am to 11:30am |
| Capilano Suspension Bridge Park | 9:00am to 1:00pm |
| FlyOver Canada & Canada Place | 10:30am to 12:00pm |
| Grouse Mountain, The Peak of Vancouver | 9:00am to 1:00pm |
| Harbour Cruises | 11:15am to 1:30pm |
| Sea Vancouver | 9:45am to 12:45pm |
| Sewell's Marina Sea Safari | 9:15am to 12:45pm |
| Landsea Tours & Adventures | 10:00am to 2:00pm |
| Gray Line Westcoast Sightseeing | 10:00am to 2:00pm |