Special Sections
---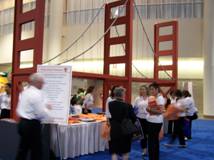 BUILD A SPECIAL SECTION … AISLE … ISLAND/PAVILION AT THE TRADE SHOW!
We are pleased to offer a unique opportunity to promote your destination
or product at CLIA's cruise3sixty. By focusing your section on a theme
that best displays your destination or product; you will make a memorable impression on each and every cruise3sixty attendee.

On the trade show exhibit floor … create the atmosphere that personifies your destination. Working with your other destination partners, together you can build a section that really shows off the "WOW" of your destination. We suggest starting with a theme to tie the section together. A logical choice would be a promotional campaign, theme or decoration that you're already using. Incorporate the colors of the promotional theme for an overall impact. A few options for your section include:

Special Section - Aisle - Island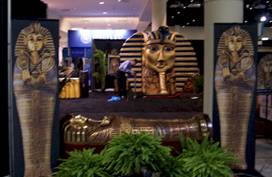 Special Section: consists of a minimum of 3 booths (10 X 30). Color or décor coordination with your partners makes a consistent and impressive look. The absence of the side rails allows for more tables. Using the 6-foot tables you can create a long, counter like look, or you could order taller counters. In addition, small café rounds placed through out the booth offers each participant a small but individual table.
Aisle: consists of a minimum of 6 booths, using each side of an aisle (10' x 30'), and allows you to carry your theme throughout. A recent example of an aisle was developed by the Greater Fort Lauderdale Convention and Visitors Bureau. After determining their theme was to be "King Tut" (the exhibit was in Ft. Lauderdale at the time) the participants decorated the aisle with Black and Gold complete with Egyptian Pharaohs and characters, palm trees and sarcophagi. As the pictures suggests, their consistent décor really made a statement!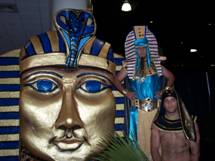 Island: consists of a minimum of 4 booths (20 X 20) with aisles on all four sides, no other attached booths., thus providing a 360 degree s of exposure. A recent example of the Island/Pavilion was developed by San Francisco, utilizing the Golden Gate Bridge, top picture. A variety of layouts are available including cocktail rounds in a café style setting, traditional tabletops located throughout the area and even the use of some pipe & drape.

For more information regarding Special Sections, Special Section/Aisles or Islands, please contact: Gale Collins, Director of Sales, at (949) 457-1545 ext. 110, or email: gcollins@mjpa.com.